Loss or resorption of mandibular bone alters and affects the height and density of the alveolar crest. Common causes may be the extraction of teeth, poorly done dental work, or periodontal (gum) disease, such loss may also be due to some sort of trauma.
The loss or resorption of bone from the jawbone, can be restored by using bone grafts. Bone grafting is a surgical procedure that involves grafting bone to reconstruct the jawbone below the gum line where the teeth attach to it. A bone graft is performed under sedation or with anesthesia. At Dental Evolution in Cancun, we perform this surgery with great success. This procedure's duration is approximately two hours long and it is performed as a preparation for other dental procedures, such as the installation of dental implants.
The benefits of a maxillary bone graft are very important since they contribute to the formation of bone where there has been significant loss, as well as the restoration of the physiognomy of the mandible in general. A healthy jawbone allows teeth to remain in place, preventing tooth loss. This loss of teeth can cause deformations, particularly in the area around the mouth which unfortunately, tends to be very obvious. At Dental Evolution in Cancun, we are aware of how worrisome this situation can be for our patients, and through a precise diagnosis we are able to suggest the proper procedure that should help to reverse any problem that afflicts him or her.
​

There are several factors that influence jawbone deterioration: the original teeth being embedded in the jawbone, where biting and chewing directly stimulates the alveolar bone; when a tooth is missing due to an extraction or when using a denture that is not anchored, there is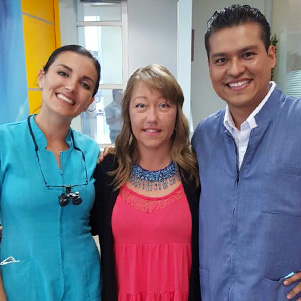 dependence on the gums and bone structure to hold it in place, which blocks alveolar stimulation; on the other hand, some prostheses such as bridges, do not slip thanks to implants, and when pressure is applied, through biting and chewing there is stimulation to the alveolar bone, but unfortunately in the space under the bridge where the missing teeth have been replaced, there is no stimulation occurring. Another frequent cause of maxillary bone loss, are is periodontal or gum disease, which in the majority of cases, is the product of inadequate oral hygiene that allows for the accumulation of plaque, causing gingivitis. Gingivitis is an infection that causes inflammation of the gums and destroys the tissue and bone that provide support for teeth. Another cause of bone loss in the jaw bone may be injury, when a tooth breaks or falls while chewing, bone stimulation stops. Misalignment is also a form of dental trauma, creating a lack of support for a tooth, whether it be an upper or lower tooth, because it no longer has an opposing tooth, which causes a lack of alveolar stimulation. When molars are extracted from the upper jaw, the subsequent upper maxillary sinus air pressure causes the resorption of the bone from the jaw in the space that was formerly occupied by the extracted molars, resulting in an enlarged sinus, creating a condition called hyperpneumatized sinus, which basically means "sinus with a greater air space".
Cancun is waiting for you with all the beauty that this tourist destination has to offer, for both national and international visitors alike, with an option for every budget. A bone graft procedure gives truly amazing results and at Dental Evolution, our dental specialists are prepared and waiting to create for you that beautiful smile you deserve, all at an unbeatable price. Your preference distinguishes us.
​¿Need a price quote? ¡Contact Us!Our team of professional dentists in Cancun will contact you.Click Here!