Replace teeth that have been lost with the passage of the years restoring functionality and aesthetics to your mouth.
A dental implant is a cylinder shaped dental root manufactured alloplastic material (usually titanium) which is surgically implanted under the gums inside the maxillary or mandibular bone; once placed and osseointegrated, the dentist will place upon them crowns or fixed bridges that will replace the teeth lost, then the implant helps us provide retention and support a fixed or removable dental prosthesis.
Types of Dental Implants:
• Conventional dental implants (one or two surgical phases)
Consists on the placement of the dental implant, osseointegration (period of two or three months), and their subsequent rehabilitation (placement of the prosthesis).
• Mini implants (a surgical stage)
This system consists of leaning into two or three and sometimes even on 4 dental implants to hold all of the prosthesis or implant a complete denture which is retained by those 4 implants. This procedure is recommended to patients who for lack of economic opportunities or for reasons of age or time, cannot be a process longer and more complex, as it would be to implement more roots and hold the denture more pillars of the implant.
• Dental Implants Immediate Load
Is a procedure that allows to recover the missing parts in a single session, in which dental implants are placed and are rehabilitated with their prostheses, are very few cases in which this procedure is indicated, once received this treatment is very important to note a soft diet.
​

Frequently Asked Questions:
How are Dental Implants installed?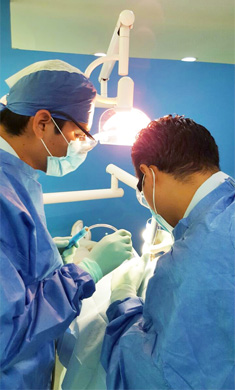 The Dental implant merges with the bone of the jaw thus creating a stable support for the fake teeth, dentures, bridges and individual crowns placed upon implants will not move inside the mouth, providing comfort and safety when it comes to chewing and speaking.
Which are the advantages of the Dental Implant?
With dental implants, it is not necessary to wear down adjacent teeth so that they hold to the replacement teeth, do not produce irritations, nausea nor must be attached to teeth on both sides of the gap as it usually happens with prostheses or common bridges.
How long does a Dental Implant lasts?
This depends on oral hygiene, care and periodic visits to the dentist, it is worth mentioning that molars, due to tension and increased wear and tear, usually last a little less than the frontal teeth, but in general and under the above mentioned conditions a Dental Implant usually lasts between 10 and 20 years.
How can I tell if I am able to receive a Dental Implant?
In Dental Evolution in Cancun, our specialists evaluate your particular case by taking photographic records, prints, lateral x-ray of the skull and orthopantomography, enabling us to study the craniofacial structure and your maxillomandibular relationship, in order to determine your oral health, since it is very important to have healthy gums and adequate bone that supports the Dental Implant.