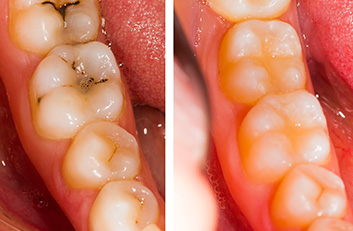 Dental resins Mexico, is the appropriate technique when what you are looking for is something conservative and aesthetically pleasing for any of your teeth that have cavities or small imperfections, dental resins are the perfect choice.
Teeth damaged by cavities require to be filled, these fillings are very resistant to chewing and blend in with your teeth because they are white.
White fillings are composed of a synthetic resin material that hardens once exposed to halogen light. Technological advances make it possible to reconstruct front teeth as well as place fillings in molars without them being noticed, thus achieving aesthetics and functionality.
Front teeth being the teeth that you see when you smile, are the ones with a greater aesthetic need, and thanks to technological advances in the world of dentistry, it is possible to reconstruct, mask, and conceal many dental defects produced by decay, changes in color, fractures, or uneven teeth.
Advantages of Mexico Dental Resins
Since they prepare the color of the tooth and its natural appearance, they are virtually undetectable.
They do not contain mercury like amalgams (metal fillings) do.
They improve the appearance of fractured and stained teeth.
Because of their natural look, they are excellent for repairing front teeth.
A cavity is not required to place a dental resin as is the case with an amalgam.
Am I a candidate for Dental Resins?
Mexico Dental resins can be an excellent and healthy alternative that you and your dentist should evaluate, if you have a cavity, cracks or metal fillings in your teeth. Metal fillings or amalgams can easily be replaced by dental resins, giving you a more aesthetically pleasing smile.
​

​¿Need a price quote? ¡Contact Us!Our team of professional dentists in Cancun will contact you.Click Here!
How long do Dental Resins last?

Mexico Dental resins are made from materials that mimic dental tissue and usually last approximately 5 years. A dental resin can last longer, but its conservation depends on optimal oral hygiene and the care that you have for it. It is highly recommended to avoid chewing gum and hard foods, such as candies, that can put your dental resins at risk and potentially crack or break them.